In our present economy, it is smart to be cost conscious.We know that and we work every day to help our customers get more for their money. Insurance is key to protecting your assets so we look for value and price when offering our insurance quotes. In observance of National Couponing Month, we're passing along some money saving ideas from a couponing guru: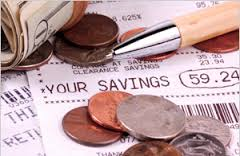 You don't have to be an extreme couponer to save money. With a plan, as little as 30 minutes a month can save you big bucks.
• STACK coupons! The best deals are when you can STACK a store coupon with a manufacturer's coupon on a sale item. Target, Publix and CVS are among the stores with generous store coupons.
I got six adjustable air fresheners for free at Dollar General this week. I had a Buy Three Get Three Free manufacturer coupon from the newspaper and a Buy Three Get Three Free store coupon from company website. Free is good!
Almost weekly, I can get personal items like toothpaste, mouthwash and deodorant by only paying for the sales tax. These items are nice to have on hand for houseguests. I also like to donate them to shelters and Operation Christmas Child.
• GO ONLINE! Couponing WEBSITES are great resources to alert of sales match-ups and have coupon databases! Some also have tutorials. My favorites are:
• GET ORGANIZED! Find the best ORGANIZATION system for you. Organize by product type, alphabetically or even by the rows of your favorite store. I use a binder with baseball card sleeves divided by product type like shampoo, frozen food, etc. Stick to your favorite stores and products, so you don't get overwhelmed.
• BE MOBILE! You can use your Smartphone to find e-coupons, or mobile coupons. This typically means logging on to the website and taking advantage of the coupons and discounts. Some stores even have an APP for that! These e-coupons can either be barcodes or text messages. Be a savvy shopper and combine mobile coupons with your other coupons. My friend saved on the decorations for her nephew's rehearsal dinner when shopping at Michaels Stores, Hobby Lobby and Jo-Ann's with e-coupons.
Happy Couponing!
Bio: Melanie Mullins. By day it's insurance marketing that keeps Melanie busy working for the Member Agents of Premiere Agency Network, LLC. But after hours, she becomes the extreme couponer extraordinaire. While we are often begging for tips, Melanie freely offers them to us all in our blog on Couponing - Not Just for the Extreme!
With a marketing focus from market access and account placement to digital marketing, Premiere is a Network of Independent Insurance Agencies in the Southeast U.S.